Seven residents of a Manassas assisted living facility have died as a result of an outbreak of COVID-19 that has so far sickened 16 people, including 11 residents and five staff members.
Arbor Terrace Sudley Manor, 7750 Garner Drive in Manassas, informed residents and their family members in letters this past week that 11 residents, including four in assisted living and seven in memory care, had tested positive for COVID-19, the disease caused by the coronavirus.   
Among the 11 residents, seven had died of COVID-19 as of Monday, May 4, according to the most recent letter, which was obtained by the Prince William Times.
Judd Harper, president of the Atlanta, Georgia-based Arbor Company, which operates Arbor Terrace Sudley Manor, confirmed the outbreak in a statement Monday.
Harper said Arbor Terrace at Sudley Manor had taken several measures recommended by the Centers for Disease Control and Prevention as well as state and local officials in an attempt to avoid an outbreak. Still, like thousands of other senior-living facilities across the U.S., Arbor Terrace Sudley Manor was unable to escape the pandemic.
"Despite having a pandemic plan in place and our heightened efforts as the situation has evolved, this is a disease that disproportionately impacts the elderly and those with severe underlying medical conditions," Harper said. "We are navigating uncharted waters caring for those most at risk, and our hearts and prayers go out to everyone who is impacted." 
Arbor Terrace Sudley Manor received testing kits from the Prince William Health District and tested residents and staff, Harper said in his statement.
But only residents and staff members showing symptoms of the COVID-19 were tested, Charles Edwards, a spokesman for the Arbor Company, said Tuesday.
The facility also screened all staff and residents for symptoms of COVID-19 daily, required the "use of [personal protective equipment] by all staff and residents, enhanced cleaning procedures … and require[ed] residents to quarantine in their residences," Harper said.
"To support our staff and retain the excellent caregivers we have in place, we increased paid sick time, provided wage increases and paid for childcare when schools closed," he added.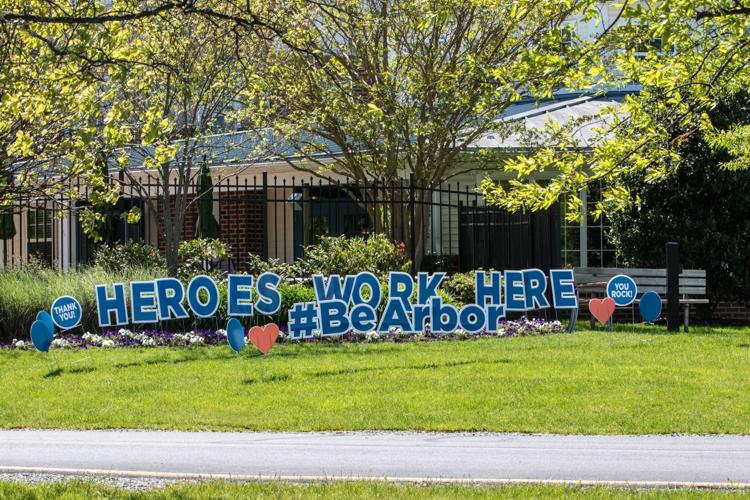 Harper also said the facility has updated residents and their family members regularly through written notices as well as a  dedicated COVID-19 page on its website. 
Other Arbor Company facilities report cases, deaths
According to the Virginia Department of Social Services, Arbor Terrace Sudley Manor, which has a capacity of 82 residents, had no reported complaints since at least 2016 and had no violations in its most recent state inspection, which occurred in 2018.
But Arbor Terrace Sudley Manor is not the only assisted facility run by the Arbor Company to report COVID-19 cases and deaths. The company operates 40 assisted living facilities in 11 states.
As of Monday, the Arbor Terrace at Cascade, in Atlanta, has had 67 COVID-19 cases among residents and staff and 17 deaths, according to the Georgia Department of Community Health. Three families filed a lawsuit against the facility alleging it failed to take necessary precautions to prevent the spread of COVID-19 among residents and staff, according to the Atlanta Journal-Constitution.
Arbor Company facilities in Illinois, Maryland and New Jersey have also reported COVID-19 cases and deaths, according to records in each of those states. 
Like Virginia, however, some of the states where Arbor Company facilities operate do not release the names of individual long-term care facilities where outbreaks and deaths have occurred.
Long-term care facilities hit hard by pandemic
Individuals that reside in long-term care facilities are among the most vulnerable to the coronavirus, given their close living quarters and underlying health conditions, according to the nonprofit Kaiser Family Foundation, which recently reported that 4,000 such facilities have so far accounted for at least 51,000 COVID-19 cases and about 10,000 deaths across the U.S.
COVID-19 outbreaks have so far been reported at seven long-term care facilities in Prince William County, including at Birmingham Green, in Manassas; Lake Manassas Health and Rehabilitation, in Gainesville; and now at Arbor Terrace Sudley Manor. 
Those are known to the public only because residents or their family members contacted the local press. Because Virginia's privacy laws treat facilities as individuals, VDH officials say they cannot release the names of individual facilities with reported outbreaks. As a result, the other four long-term care facilities with outbreaks in the county are so far not publicly known.
Across Virginia, there have been 2,902 COVID-19 cases and 405 deaths – about 56% of the state's total --  tied to outbreaks at long-term care centers as of Tuesday, May 5, according to the VDH website.
State officials formed a long-term care facility task force about three weeks ago after 45 residents died after a COVID-19 outbreak at the Canterbury Rehabilitation & Healthcare Center in Richmond.
A spokesman for Arbor Terrace Sudley Manor declined to say whether the task force had assisted the facility with the outbreak, but Dr. Alison Ansher, director of the Prince William County Health District, said her office has reached out to all the long-term care facilities in the county since the pandemic began to offer preventative guidance and information about infection control. 
Additionally, as needed, the health district trained long-term care facility staff on properly fitting face masks and provided PPE as it became available, Ansher said in an email.
"If particular facilities need help with obtaining sampling kits and testing, we provide that support, too," she added. "We have discouraged sharing staff with other facilities."
In an email, Ansher provided a long list of other advice the health district provided the facilities, including how to monitor for COVID-19 by taking residents' temperatures and checking their symptoms twice a day, limiting visitors "except for compassionate reasons," stopping communal eating or activities and "planning for a surge" by separating residents with COVID-19 or symptoms from other residents and serving them with separate staff, if possible.
As of Tuesday, 36 residents of Prince William County had died of COVID-19, including 29 who were age 60 or older. They included 10 residents between the ages of 60 and 69, nine between the ages of 70 and 79 and 10 over the age of 80.
Because of Virginia's privacy laws, however, it's not publicly known how many local victims died as a result of outbreaks in long-term care facilities.
UPDATE: This story has been updated to note that only symptomatic residents and staff at Arbor Terrace Sudley Manor -- not all residents and staff -- were tested for COVID-19, according to a spokesman.
Reach Jill Palermo at jpalermo@fauquier.com