Prince William County's 12th library is a first for the City of Manassas, and it's finally open on a regular basis for area residents.
The library's initial opening date in February was postponed due to an ice storm. Then operations were further delayed when many of the new branch's librarians were assigned to COVID-19 call centers, and patrons weren't allowed into the building because of social-distancing guidelines.
But despite those challenges, the library's opening has still been a great success, said librarian Mirna Turcios.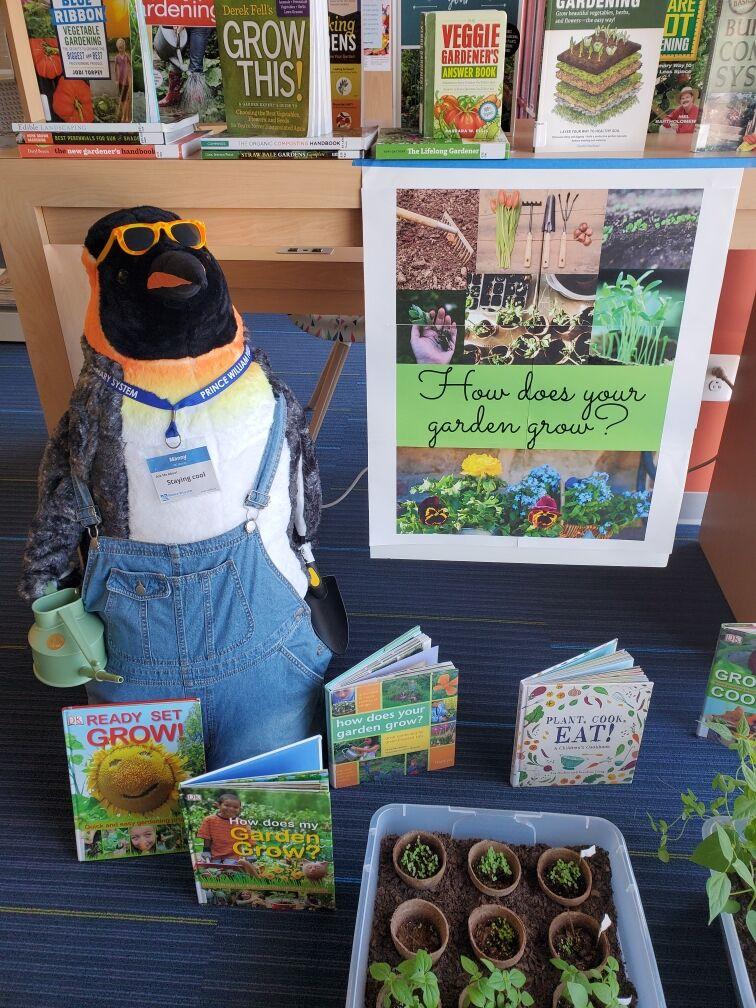 "We took advantage of the building's location next to Giant to showcase books to the public through our front windows using our modular bookshelves. We had a very active first few weeks of curbside service in the community," she said, adding: "In April, we had over 300 curbside appointments."
The 6,000-square-foot library is located in the Wellington Shopping Center in a space formerly occupied by a gym. The space has been completely renovated and thoughtfully appointed with moveable bookshelves, comfortable (yet wipe-able) furniture and plenty of work tables that allow the branch to "be flexible and make the most of our space," explained Turcios.
The library is situated near a senior center as well as several neighborhoods that are all within walking distance. Turcios said that the library gets a lot of walkers and also bicyclists, so many in fact, that the City of Manassas put up a bike rack near the library's parking lot. 
Everyone who looks into the windows or steps inside the library's accessible doors are welcomed by the library's unofficial penguin mascot "Manny" – short for Manassas. 
Turcios said that Manny is always seasonally dressed and is currently outfitted as a gardener growing healthy vegetables. Last month, Manny celebrated Manassas City's new Bee City USA designation by wearing a beekeeper's suit. Turcios said that Manny gives passers-by something fun to look at and also invites them into the library.
Turcios noted the library's vast collection of reading materials, from board books for beginning readers, a world languages collection, study materials, the library's "Fortunate Finds" collection of best-sellers, to large-print books and everything in between. She said that there is something for everyone. 
According to Turcios, library staff members are the creative minds behind their innovative virtual programming, which recently included a popular "bad poetry" contest for poetry month.  Over the summer, the library will feature a "literary feast," which will encourage people to prepare a meal based on any book or movie and then share what they made. 
"We'll pick a winner, and they'll get a prize," Turcios said. 
The library also offers "take and make" kits that are generally fun crafts with written directions and online video tutorials.
The library's capacity is currently set at 19 people, but as COVID-19 restrictions ease, that number will grow. 
The library also has two study/meeting rooms that are not yet available to patrons due to social-distancing guidelines. One of them is outfitted with a Webex board and the other has a conference phone. Several public computers are also available for use at the library along with internet access, Microsoft Word and PowerPoint.  
Turcios said the library's free wi-fi is also very popular with library patrons. 
Calvin Meadows, 67, is a resident of the Wellington neighborhood and said he enjoys visiting the library and sitting outside at one of the new bistro tables on the sidewalk in front of the library. 
Meadows, an Air Force veteran and retiree of the National Weather Service, said he likes to sit in the shade reading and take advantage of the library's free wi-fi. An Agatha Christie fan, Meadows says he is looking forward to checking out the library's collection of mysteries.
Turcios said she is excited about what the community library has to offer patrons both virtually and in-person. 
"Libraries are one of the last completely free public spaces where you don't have to spend any money to be there for however long you want to be there," she said.  Our goal is to "provide a space where people can pursue their own interests completely independently."
Reach Cher Muzyk at cmuzyk@gmail.com