Local photographer Julie McGuire said she's lucky to combine her vocation and avocation in her career, connecting her love of animals and her love of photography as a documentary and animal portraitist.
McGuire, 55, of Orlean, an unincorporated town northwest of Warrenton in Fauquier County, was recently recognized by the prestigious Royal Photographic Society as an "RPS associate" for her work documenting homeless dogs in Malaysia. "Hounds of Hope" provides an unflinching look into the daily lives of street dogs living at the Penang Animal Welfare Society.
"It's rewarding, especially for a project I'm so passionate about," said McGuire of the honor. "Welfare of animals is an ongoing issue for people and pets all over the world. This is something really important to me, to all of us."
McGuire shot Hounds of Hope in 2013, but it took last year's COVID shutdown, she explained, to allow her the time and focus required to put together the RPS package.
"I finally had the time to devote to writing the dogs' story, in words and in images," she said. "Otherwise, the only dogs I'd been looking at over the last 18 months are my own," two black-and-tan Dachshunds.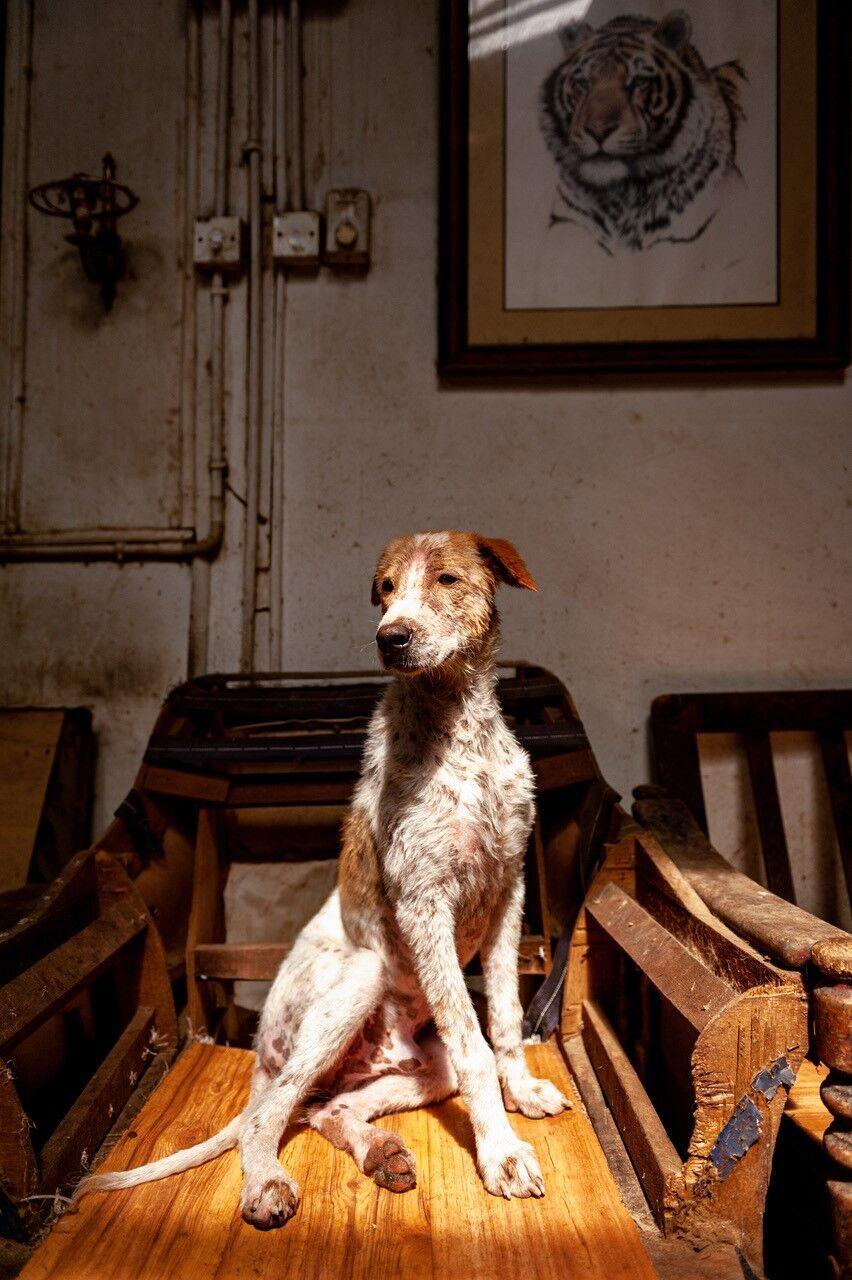 Winning RPS recognition is no simple matter: Submissions from around the world are presented to a professional judging panel. "Hounds of Hope" was entered in the documentary category, requiring it to tell a cohesive story, McGuire said, one that communicates an overarching vision and understanding of her subject.
"Hounds of Hope" documents the Penang shelter – a former residence now given over to street dogs living out their lives in safety and relative luxury. Photos in the series include group shots of dogs lounging on donated furniture and playing in the former formal parlor of the house; others are moody, softly lit portraits of some of the mixed-breed mutts that had been abandoned on city streets before getting a new lease on life at Penang. Several powerful shots depict hardworking shelter volunteers interacting with dogs as they fight their way back to health.
"It is an important story to tell," McGuire said of the plight of homeless pets. "It was one I had to tell."
The Royal Photographic Society, based in Bristol, England, was founded in 1853, one of the globe's oldest.
Meet Julie McGuire
Julie McGuire has worked as a pet photographer and freelance documentary photographer in the Piedmont region since moving to the area three years ago. Her work has appeared in newspapers and exhibitions around the world, and she has received numerous awards, including a prestigious World Press Photo Award.
In 2019, her photographs were part of a full-page story in the Washington Post about Fauquier's Ashland Bassets.
McGuire, 55, volunteers her time photographing local rescue dogs to help them find adoptive homes.
She grew up in Yorkshire, England. She served in the Territorial Army, a radio relay operator in the reserves and on the shooting team.
She moved to New York in 2001 to work in public relations. There, she met and married husband Tom, and the couple moved to Bangalore, India for his job in 2005. They moved back to the U.S. in 2016, and moved to Orlean in 2018.
McGuire is a member of the Orlean Artist Collective, the British Royal Photographic Society, U.S. National Association of Press Photographers and HeARTs Speak, a global organization that pairs artists with local animal shelters to help raise their profile and adoption success.
Though she takes mostly dog portraits for pet owners, she said "no animal is exempt: puppies, ponies, pigs, parrots."
McGuire also sells framed prints at the Village Green in Orlean. Find more at juliemcguire.com.