The popular Transformers' character "Bumblebee" that captivates audiences on the big screen is now wowing motorists along U.S. 29 in Warrenton, thanks to a very talented Meadows Farms delivery truck driver. 
Meadows Farms has an annual fall festival, and part of the celebration is a "giant scarecrow" competition among its multiple Northern Virginia locations. Rick Clark, 60, created Bumblebee at his Warrenton farm as this year's entry for Meadows Farms' Warrenton location on Lee Highway.
Bumblebee won. And it is easy to see why.
At 15 feet tall with a 10-foot arm span, Bumblebee towers above U.S. 29 and beckons passersby to stop and take a look. A closer inspection reveals that Bumblebee is in fact made of nothing but junk. Clark had a vision for these scraps and leftovers and turned them into a magnificent spectacle.
"When I was assembling the body parts in front of the store, a little boy's eyes got big when he recognized it as Bumblebee. I knew I had it," Clark said.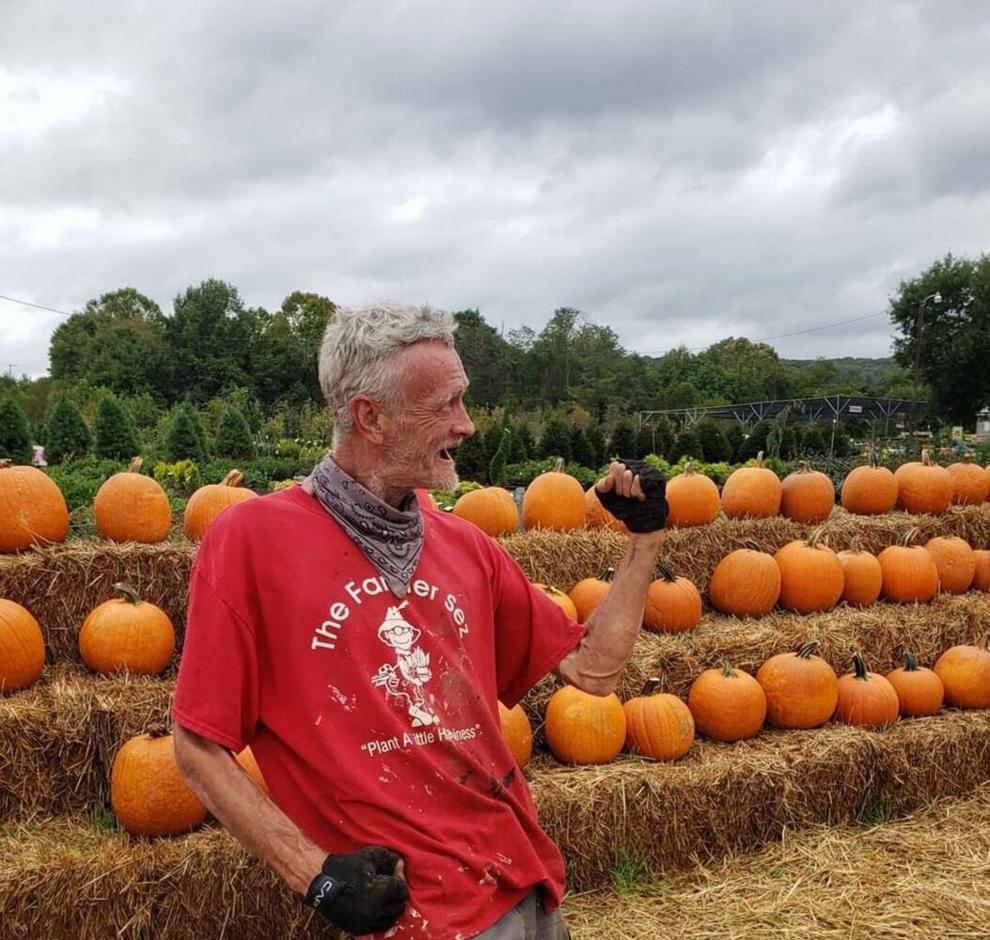 Clark is a longtime employee of Meadows Farms Nursery in Warrenton. He said that his mother and brother were both talented at drawing, but he wasn't. He was interested in sculpture and putting pieces together to form new things.
Clark has used his talents to win Meadows Farms fall festival giant scarecrow competition five times. In previous years, he created gigantic versions of Popeye, Charlie Brown, Winnie the Pooh and Ryder from Paw Patrol.
"I used different materials to create those other figures, mostly foam, caulk and latex," he said.  "This year was different, I used scrap parts and stuff I found around my farm and screwed it together to make Bumblebee."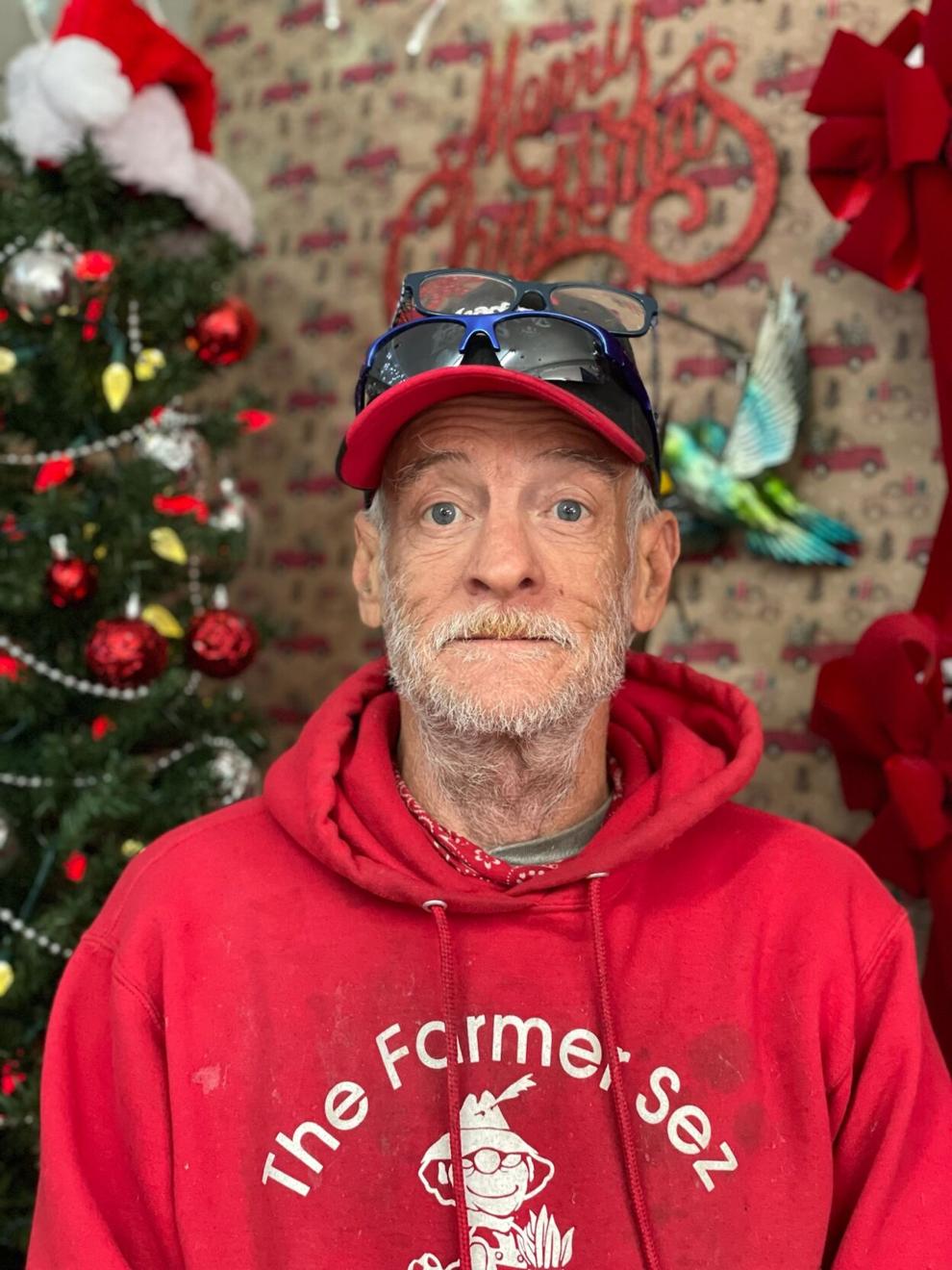 Clark said he had been thinking about creating Bumblebee for years because a child had once asked him: "Why didn't you make a Transformer?" Clark decided this year would be the year he would take on the challenge. So when the Warrenton location staff voted on what character to create this year, he was able to influence them to choose Bumblebee because he was already thinking about how he could create it.
Clark got to work in late summer and spent every spare minute he had for more than five weeks to create Bumblebee. The project was on Clark's mind constantly. 
"I was thinking about it all the time," he said, explaining that it took plenty of mental focus to figure out just how to place the scrap parts and recycled materials he had sitting around his property to make Bumblebee come to life. Working four to five hours each weeknight and then 10 hours over the weekends, Clark managed to complete Bumblebee and beat the contest's Oct. 1 deadline by more than two weeks.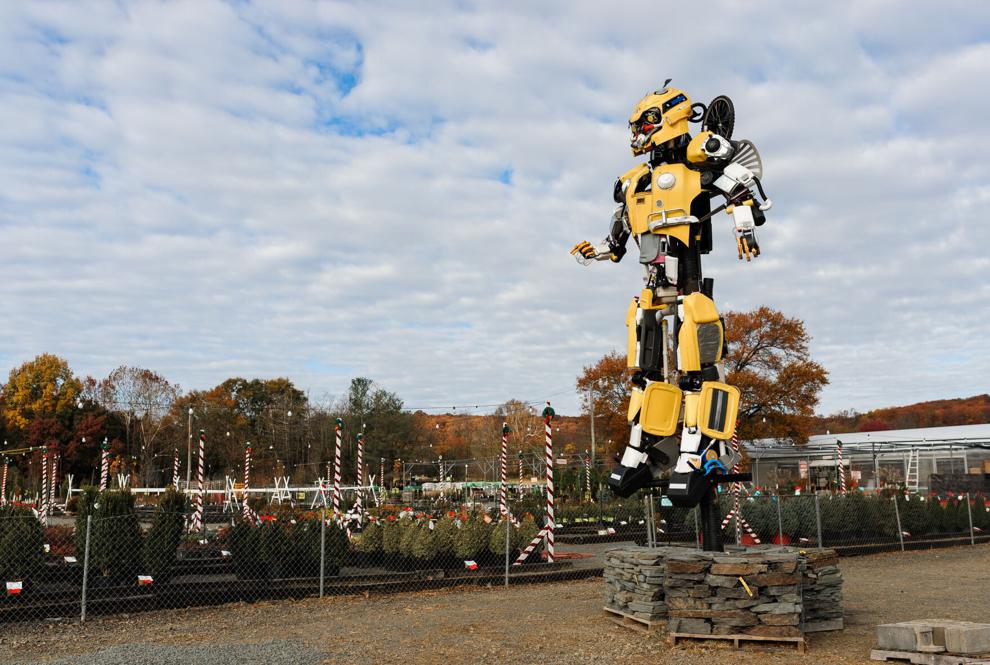 Clark used plastic jugs, storage tubs and lids, tires, gears, belts, PVC and corrugated pipes, and even plastic lawn chairs in his creation. Bumblebee's fingers are old clamps Clark had used for lumber, and the chest piece is from a rubber car bumper. 
"I picked up the bumper from a median in the road three years ago. I kept driving by it thinking I should pick it up because I knew eventually I would use it for something," he said. "One day I grabbed it and threw it in my truck. It turned out to be the perfect chest piece for Bumblebee."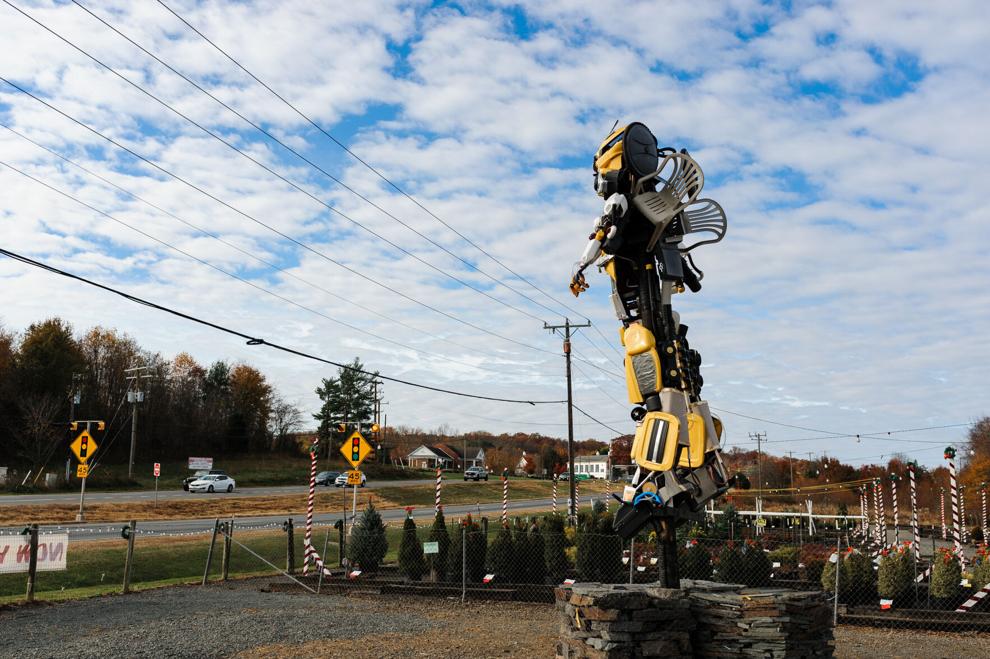 The only supplies Clark purchased were the yellow paint, clear tubing and the screws he used to put it all together. When he was done creating Bumblebee's abdomen and appendages, he transported them from his farm to the nursery in a dump truck. Clark said the pieces themselves are not that heavy because they are mostly made of plastic but probably weigh about 200 pounds or so collectively.
Clark said his final step was to put all the pieces together and affix everything to a telephone pole to display it near the nursery's entrance.
Katrina Whitten, a sales clerk at Meadows Farms in Warrenton, said since Bumblebee was erected in the store's pumpkin patch near the roadside, "People drive by and they do a double-take."
"You can see them from their cars thinking, 'There's a Transformer on the side of the road!'"
Whitten said Bumblebee won the Meadows Farms scarecrow contest "by a long shot," adding: "As soon as it was posted, everybody said, 'OK, let's call it a contest now because nobody's getting better than that.'" 
Whitten said the store gave the $200 in prize money from the contest directly to Clark.
As word about Bumblebee has spread, people have called the nursery to ask if they can come visit and take pictures – all of which are welcomed by Meadows Farms. Whitten said one family came "all decked out in Transformers costumes" and took pictures with Bumblebee because their kids were "obsessed with Bumblebee." 
Clark said he is glad Bumblebee has made people happy and plans to take the Transformer back to his farm and set it up there when the nursery closes for winter. 
"I am a delivery truck driver, so I see people looking at Bumblebee sometimes as I drive in and out," he said. "Sitting back and watching people enjoy it is my reward."
To see Bumblebee in person, visit Meadows Farms in Warrenton at 5074 Lee Highway. He'll be standing guard over the nursery through the end of the year.
Reach Cher Muzyk at cmuzyk@gmail.com.