Democrats appear to have swept the races for Manassas mayor and city council, with Councilwoman Michelle Davis Younger winning the mayor's race by fewer than 400 votes.
With all seven precincts reporting, Davis-Younger, a Democrat, had won 7,903 votes, or 51.2% of the ballots counted, compared to Councilwoman Theresa Coates Ellis, a Republican, who garnered 7,514 votes or about 49% of the vote.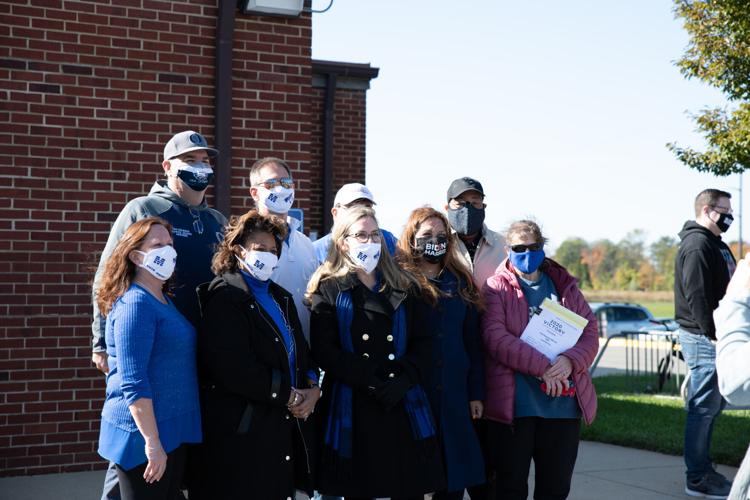 In the city council race, incumbents Mark Wolfe and Pam Sebesky and newcomer Tom Osina were the three top vote-getters, with Sebesky winning the most votes, 8,237, followed by Wolfe with 8,214 and Osina with 6,736 votes. All three are Democrats.
Incumbent City Councilman Ian Lovejoy, a Republican, won the fourth-highest number of votes, with 6,562. He fell short of winning re-election by about 174 votes, according to the still unofficial election results.
At the Jennie Dean Elementary School polling place Tuesday morning, Davis-Younger said she was hoping for the best at both the local and national levels for the Democratic candidates on the ticket.  
"We have been pushing like crazy. Our early voter rates have been through the roof," she said. "That speaks volumes." 
Wolfe said he felt confident about the early voting numbers in Manassas for the Democratic slate of candidates. But he expressed some apprehension about the presidential race.  
"I'm not nervous. But I remember the disappointment of four years ago," Wolfe said. "I don't think the country can go through that again."  
Coates Ellis said she was excited to see the outcome on Election Day at the local level. But she added that she saw some division at the polls.  
"I think there's a little division in the city. I think you can clearly see that. The people that are coming out to vote know who they're going to vote for at this point," Coates Ellis said.
Coates Ellis will retain her seat on the city council, as her term will not end until 2022.
The Manassas contest was the most competitive local race this year, with two sitting city councilwomen vying to make history as the city's first woman mayor. 
Davis-Younger is a lifelong Manassas-area resident and owner of a human resources consulting business. Davis-Younger said last week she knows it will be a challenge to be the first woman, first African American and first Democrat elected mayor.
But she said she's confident in her ability to be a "bridge builder" to help guide the city through an especially challenging time.
"The country is so divided right now, and everybody is hurting because of the pandemic," Davis-Younger said.
Her goal, she said, is to "bring the community together" to tackle its challenges, which include strengthening the school division, boosting economic development and keeping city services strong.
This is a developing story. Stay with the Prince William Times for updates.