The line was already more than 20 deep at Potomac Mills' Nike Clearance Store when Onita Hayes and her two kids were checking out on a recent Sunday afternoon. But Hayes didn't mind. She found pretty good deals on new athletic shoes for her husband and both their kids.
That doesn't always happen when they shop online. So the trip up to Woodbridge from their home in Stafford was worth it, Hayes said.
"It's my favorite versus the [mall] in Fredericksburg," Hayes said of Potomac Mills. "There's more deals and there's more variety of clothing."
Hayes' daughter Jaayla, 11, said she and her friends still prefer coming out to the mall to online shopping.
"It's better to hang out with your friends," Jaayla Hayes said. "You see people you know and you can socialize."
Potomac Mills, the sprawling discount mall that in many ways put Prince William County on the map, is celebrating its 34th holiday season. As usual, the mall has extended its shopping hours between now and Dec. 26, the peak shopping season for the mall's 220 stores.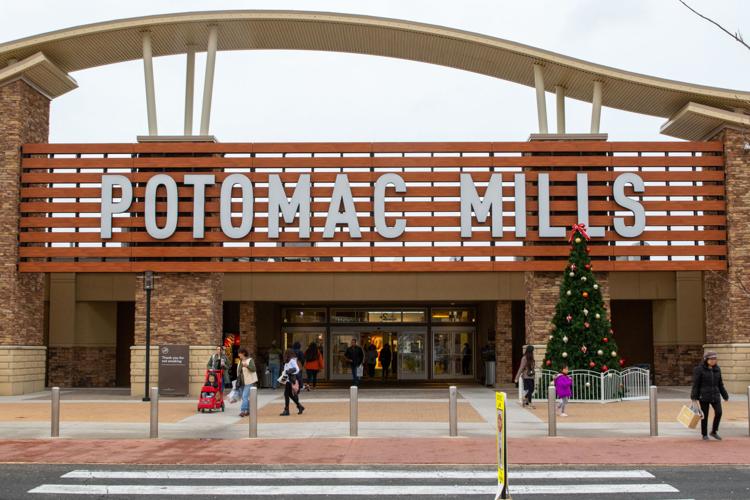 Some store managers say they are optimistic about the holiday season. Sales have already proven strong this fall, said Wesley Willis, 25, who's spent the last seven years at Potomac Mills, working his way up from sales positions at Guess and Pac Sun to his current job as manager at Aeropostale.
"It's always been a really busy mall.  We get a lot of tourists. We see a lot of people, especially on weekends," Willis said. "It's pretty much always busy."
That's hardly the case for many of the nation's shopping malls. As online shopping has grown steadily over recent years -- nearly doubling from 7.9% of all retail sales in the U.S. in 2012 to 14.3% in 2018, according to U.S. Department of Commerce -- many brick-and-mortar stores have suffered. According to the real estate research firm Costar, a record 10,600 retail outlets have closed in 2019 as of mid-November, a significant jump from the 5,400 that closed in all of 2018. 
Some of those closings have affected Potomac Mills, which recently lost its Gymboree, Charlotte Russe and Payless Shoe Source stores as those companies closed all their outlets nationwide. Gander Mountain, a massive outdoor gear store that occupied a 78,000-square-foot space on the outskirts of the mall, closed in 2017 and has yet to be replaced by another outlet.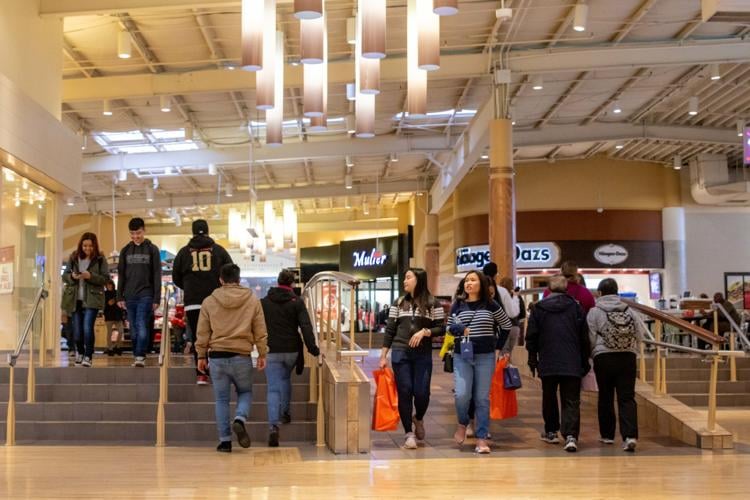 But retailers such as buybuy Baby, Books-A-Million and Sears, which have shuttered stores in other malls, have kept their Potomac Mills stores open. Generally, Potomac Mills has not experienced the same loss of foot traffic that's plagued other shopping, Willis and other store managers said.
Vincent Heslip, a manager at Books-A-Million, said "the mall is doing pretty OK" in terms of attracting crowds, despite the rise of online shopping. 
Heslip attributes Potomac Mills' ongoing success to its location on Interstate 95, between Washington, D.C, and Fredericksburg, which makes it a magnet for tourists and locals, alike. Heslip said his store gets a fair share of international visitors.
"Even with the decline of physical shopping just having that [location] makes us a pit stop for a lot of people," he said.
Location, location
Prince William's proximity to Washington, D.C. and I-95 is likely what drew the mall's developers to the county in the first place, said Roger Snyder who was Prince William County's planning director when the mall opened in 1985.
Prince William County's population, at 160,000, was about a third of what it is now when developers approached the county with the idea of opening a huge outlet mall at the site, which was then little more than overgrown farmland. There was little opposition, Snyder said.
"We were struggling in economic development," Snyder said of the county at the time. "We wanted to improve our economic development status, and we wanted to rise above the reputation of being that redneck county south of Fairfax."
The idea of developing the site as a mall seemed like a no-brainer, Snyder said.
"We saw this picture of this regional mall as a giant cash register," he added. 
A few homes were lost to the mall, but that didn't cause much controversy. There wasn't even much concern about the inevitable traffic the mall would bring to Woodbridge, which at the time lacked one of the key roads that now carries much of the mall's volume: Prince William Parkway. 
When Potomac Mills opened, it was accessible only from Smoketown and Telegraph roads. Prince William Parkway would not open until 1992, and its interchange with I-95 came a few years later.
The mall opened in 1985 and was a magnet for regional shoppers from almost day one. A few years after opening, it would rank among the top tourist destinations in Virginia, an achievement that concerned those who thought Virginia Beach or Williamsburg should be attracting more visitors.
Over the years, the mall grew from an initial 650,000 square feet to more than 1.6 million square feet after a major expansion in 1993. It now boasts about 9,000 parking spaces, many of which were full this past weekend.
After the mall's opening, additional shopping centers spouted up around the original property, bringing big-box stores such as Best Buy, Wal-Mart and Sam's Club along with dozens of smaller retailers and restaurants. 
"Other businesses have come in and said, 'I want what they're having,'" said Snyder, a pilot who now takes aerial photographs for media and other clients. "In this case, people saw how popular the mall was in the early going, and it still is. When I fly over it, you see lots of cars there."
Snyder attributes Potomac Mills' ongoing success to its appeal as a destination not only for shopping but for spending time with family and friends.
"With a mall of this size, it becomes a social thing. Women go together, like my wife and her friends," Snyder said. "People just enjoy a total experience. They might be doing less buying than they did before, but people just like the mall experience. … Once you park once and get in there, there's all this stuff you can see."
Black Friday and beyond
Initial reports say spending was strong over the recent Black Friday shopping weekend – even at the nation's malls. Exact numbers were not yet available at press time, but news reports indicate the crowds were mostly living up to the National Retail Federation's prediction that sales would rise between 3.8% and 4.2%, an increase from the 2.1% sales bump seen during November and December 2018.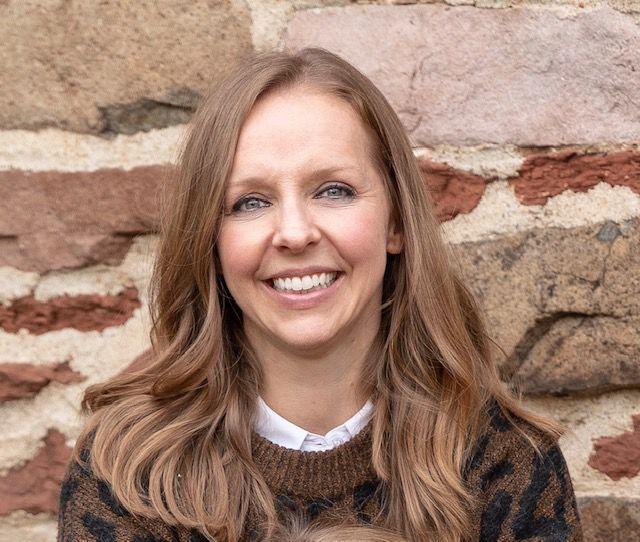 Steve Yalof, CEO of Simon Property Group's Premium Outlets, which owns Potomac Mills, told the Washington Post that customer traffic at its East Coast outlets was up on Black Friday compared with a year ago.
Potomac Mills General Manager Jen Snitselaar declined to release specific sales information about the Woodbridge outlet mall either for the 2019 holiday season or more broadly. 
In an emailed statement, Snitselaar did not answer questions about the mall's sales-per-square-foot, a common measure of a shopping mall's fiscal health, or its annual and holiday foot traffic. 
"We don't make predictions on mall traffic, but we're seeing lots of shopping bags, busy Santa set activity and full parking lots – always a good sign and indicator of a busy holiday shopping season," Snitselaar said.
Regarding what the mall is doing to keep sales healthy despite the rise in online sales, Snitselaar, too, noted the mall has tried to capitalize on the overall experience of visiting the mall.
"Shopping is a truly social activity, and lends itself to spending time with friends and family, especially during the holidays," she said. 
Snitselaar said the mall is working to add to shoppers' experiences by attracting new businesses focused not just on selling but on entertaining. The openings next year of the ZavaZone indoor adventure park and the Round1 arcade and game center are two examples. 
"We provide an experience shoppers can't get behind a laptop or phone," she said.
Reach Jill Palermo at jpalermo@fauquier.com