With the help of a special tourism grant from the state, a new "Tru" brand Hilton hotel will soon be part of the Landing at Cannon Branch development in the City of Manassas.
Manassas Mayor Hal Parrish, city council members and other officials gathered at the site of the new hotel for a groundbreaking ceremony Tuesday, June 9. 
The 98-room hotel is expected to cost about $15 million and will take about 13 months to complete. It should be open by August 2020, said Austin Haynes, a partner with Holladay Properties, the hotel's developer.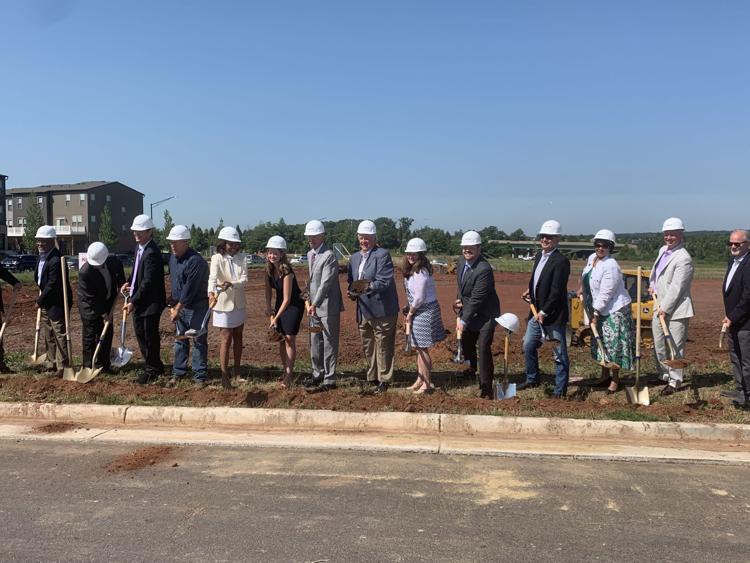 "Tru by Hilton changes the game," Parrish said, noting that the new hotel will be "strategically positioned" near some of the fastest growing companies in Manassas, including Micron, Lockheed Martin, the Novant Health-UVA Prince William Health Center, BAE Systems, Aurora Flight Sciences and Leidos, the latter of which are located at the Manassas Regional Airport, which is also near the site.
"Additionally the hotel will provide much needed lodging options for more than 350,000 tourists who visit our historic battlefields, take part in our many festivals and dine in historic downtown Manassas, " Parrish said.
The hotel is expected to create 35 new jobs, spur $2.8 million in economic development and produce about $370,000 in local tax revenue during its first year, according to a press release issued by Gov. Ralph Northam's office Tuesday. 
Haynes, who is also a local Manassas real estate agent and a member of the Prince William County Planning Commission, said the state grant was key to financing the new hotel's construction. He called the addition "pretty significant" given that the city has only a handful of hotels and none in the booming Innovation Park corridor near the intersection of Prince William County Parkway and Interstate 66.
"It's a national brand hotel and it will be a new look," Haynes said.
The Landing at Cannon Branch, a 40-acre mixed-use development, is already the site of several new townhomes. A new office building with retail space on the bottom floor is also under construction next to the area's large stormwater pond.
Tru by Hilton is Hilton's midscale brand, which caters to the "millennial traveler" for both business and leisure travel, Northam's press release said.
Reach Jill Palermo at jpalermo@fauquier.com