Tessa Smith was having a "Pure Barry" at Dunbri's Dessert Café and loving it.
The 4-year-old was at the new shop in Haymarket with her cousin Kylah, who just turned 11, and her mom, Lauren. The Smiths live in Bealeton, but Lauren works in Haymarket and heard about Dunbri's from co-workers.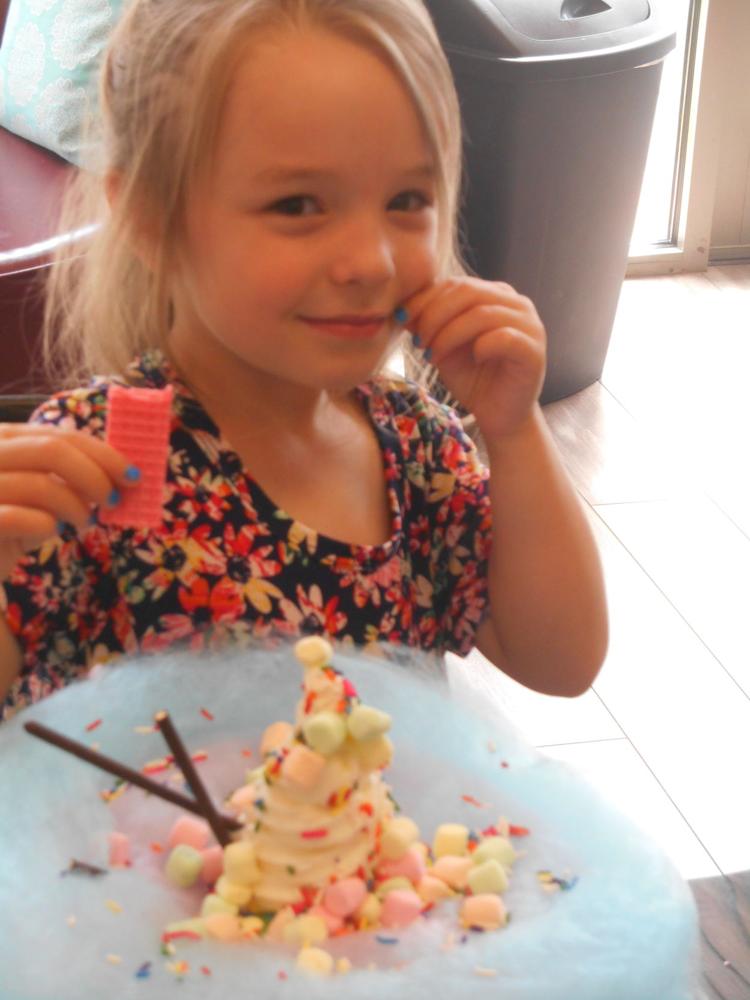 The Pure Barry is an ice cream surrounded by cotton candy, a confection that appeals to kids especially.
Dunbri's opened June 1 in the Trading Square shopping center in front of Kohl's off Va. 55 and just outside Haymarket's town limits.
Dunbri's is owned by Graham and Karen Maclean, both Scots who came to the U.S. 22 years ago.
The Macleans first lived in New Orleans, where she worked as a physical therapist and he was a restaurant manager. They now live in Haymarket. They have three daughters who all work at the shop as well as other part-time staff.
Dunbri's is a combination of the Scottish towns they came from, Dunblane and Bridge of Allan.
"We were looking to create a space we thought people could enjoy. We felt there was a need in Haymarket for a place to hang out that's kind of cozy and fun," said Karen Maclean, who has less of a Scottish accent than Graham because her parents were British.
In good weather, patrons can sit at tables outdoors or around tables inside. Inside, there's also a small sofa and two comfortable chairs next to a nook containing games and books.
The Macleans want to make Dunbri's the kind of place where families will come and stay awhile or where clubs can gather. They have plans to offer entertainment, like having a mic night and book readings.
Dunbri's offers a wide selection of frozen yogurt flavors, including cookies and cream, chocolate classic, cake batter, New York cheesecake, country vanilla, mango and raspberry.
Patrons take a cup, select the flavor, then pull the lever on the dispensers.
They can top their yogurt with M&Ms, chocolate chips, gummi bears, pretzels, cherries, berries or something else from the toppings bar. They can choose one or go wild with multiple toppings.
Yogurt is priced by weight. Frozen yogurt orders can cost anywhere from $2 to $8 at the checkout counter, Karen Maclean said.
Besides frozen yogurt, Dunbri's serves handspun milkshakes, Dole floats, cronuts (a croissant doughnut pastry), 99 Flakes, an ice cream treat popular in the United Kingdom.
To drink, patrons can get bottled soda, lemonade, coffee or hot chocolate.
There's a selection of cakes and cookies that also includes gluten-free options.
The Macleans plan to add sandwiches to the menu.
"It offers a variety. I love the taste of the milkshake, and there are so many new things. The kids, of course, like the Pure Barry," said Matthew Petrus, who was at Dubri's with his wife, Christine, and their children, Matthew and Victoria.
The Petruses have been to Dunbri's many times.
The Macleans said the customer response has been great so far.
They don't have a website, but they do have a Facebook page they use to make announcements and where customers can post comments.
The shop is open from 11 a.m. to 9 p.m. Sunday through Thursday and until 9:30 p.m. on Friday and Saturday.
Reach James Ivancic at jivancic@fauquier.com